Travels
VIAJE ORGANIZADO AL CONCIERTO DE SLAYER, ANTHRAX, LAMB OF GOD Y OBITUARY EN MADRID
From Friday 28 of September 2018
Tras más de 30 años de carrera, la mítica banda de Thrash Metal californiana SLAYER ha decidido decirnos Adiós, pero no sin hacerlo con una despedida como dios manda. Habiéndonos dejado grandes himnos del Metal como Black Magic, Raining Blood, South of Heaven o Season in the abyss, se coronaron como una de las bandas más infuyentes del Thrash Metal de la historia, además de una gran influencia para estilos posteriores de metal como el Death Metal.
Por ello, en Discos Tráfico no podemos perdernos la despedida de esta LEYENDA, bien acompañada por ANTHRAX, OBITUARY y LAMB OF GOD. Para que podamos ir todos al gran aquelarre de estos demonios sin piedad, hemos organizado un viaje desde Murcia para esta gran Cita.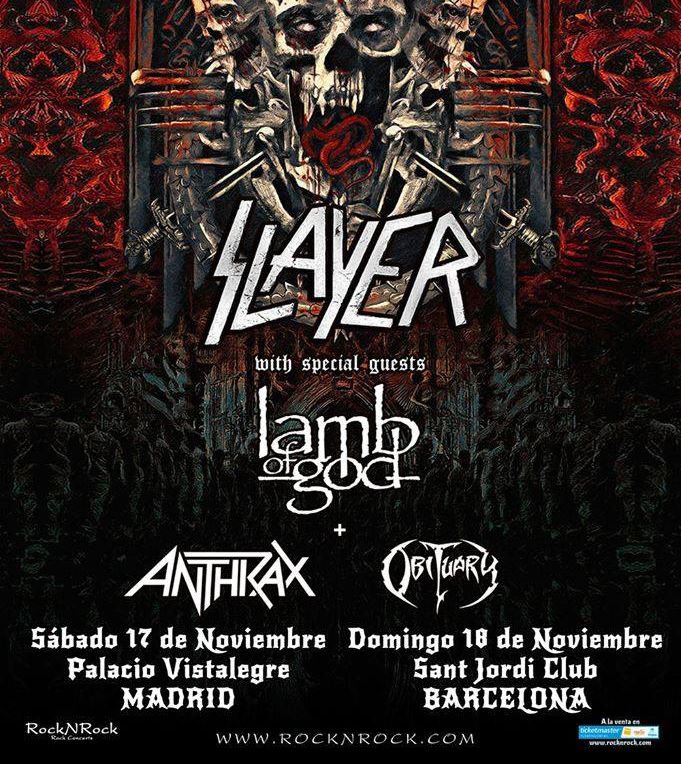 La Misa Negra tendrá lugar en próximo sábado 17 de Noviembre en el Palacio Vistalegre de Madrid. Y para que no tengáis que preocupar, también tenemos ENTRADAS CON VIAJE:

Viaje Solo: 55€
Viaje + Entrada: 125€

El autobús saldrá el mismo Sábado hacia Madrid y volverá a Murcia conforme terminen todos los conciertos. Podéis reservar vuestra plaza desde nuestra tienda o a través de nuestra página web:
(todavía no está subido el enlace, lo subiremos esta semana)

Nos os perdáis esta oportunidad de despediros de los atormentadores SLAYER, pues será vuestra última oportunidad!